Wedding Vow Calligraphy Art Work, Set of 2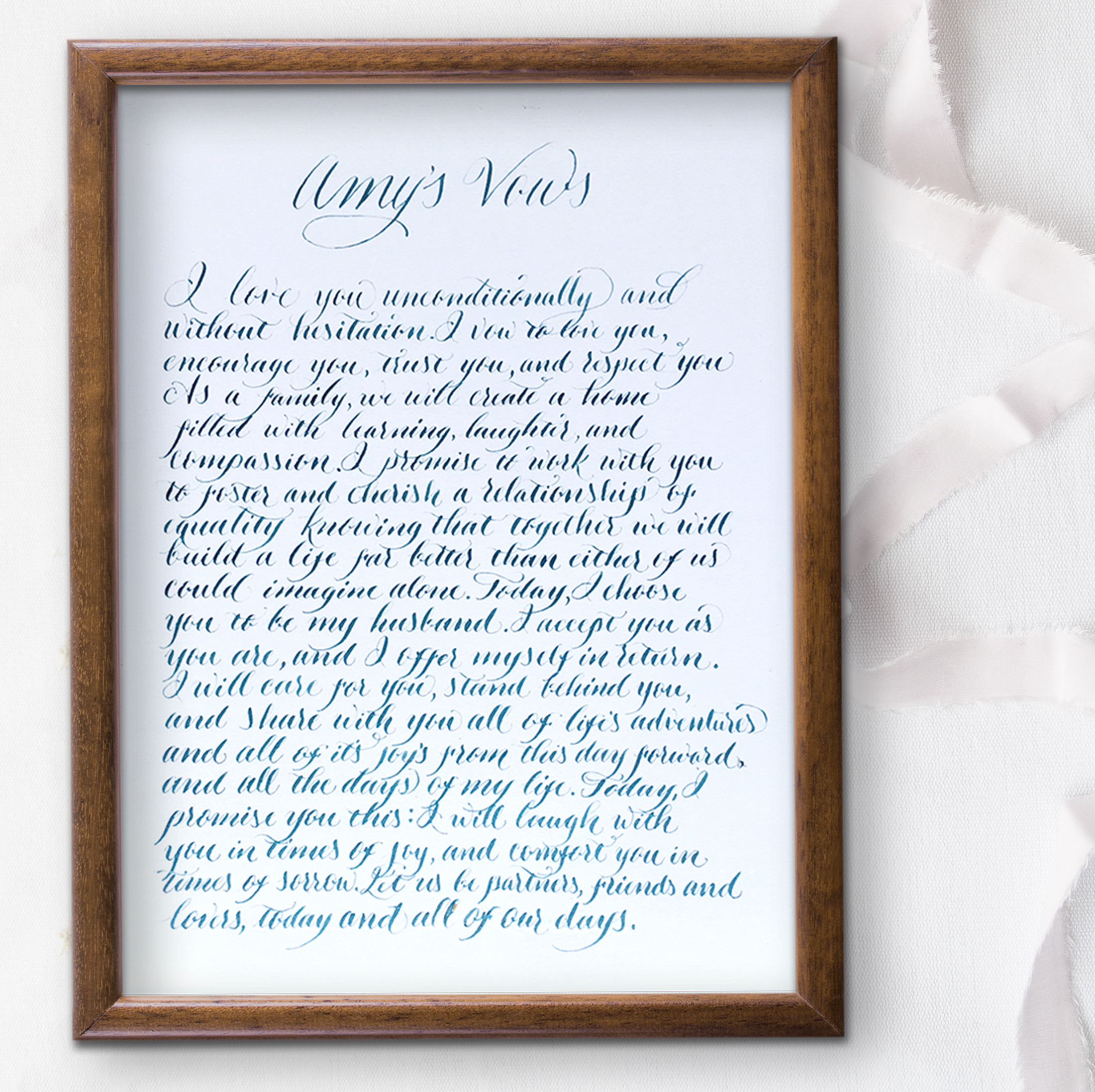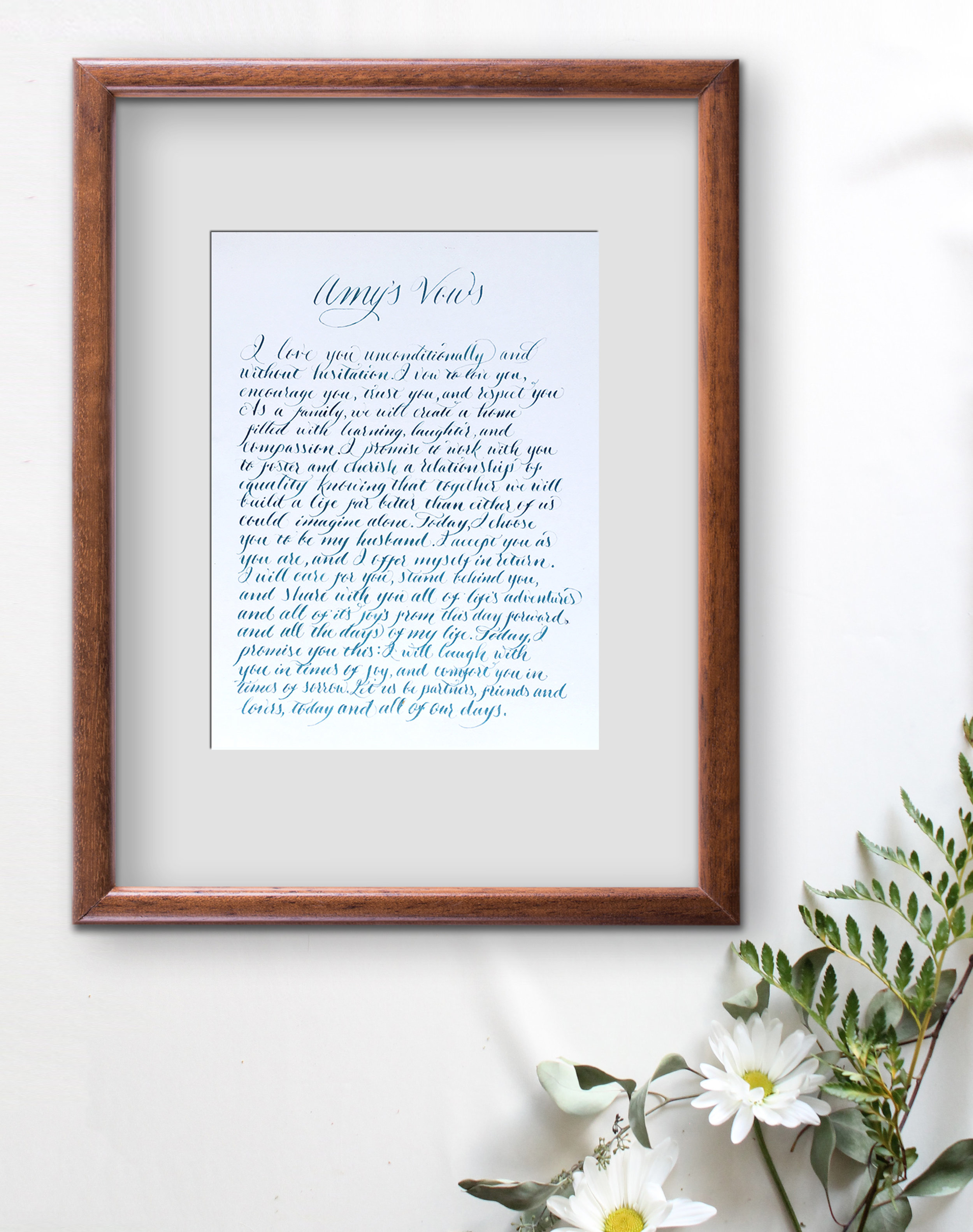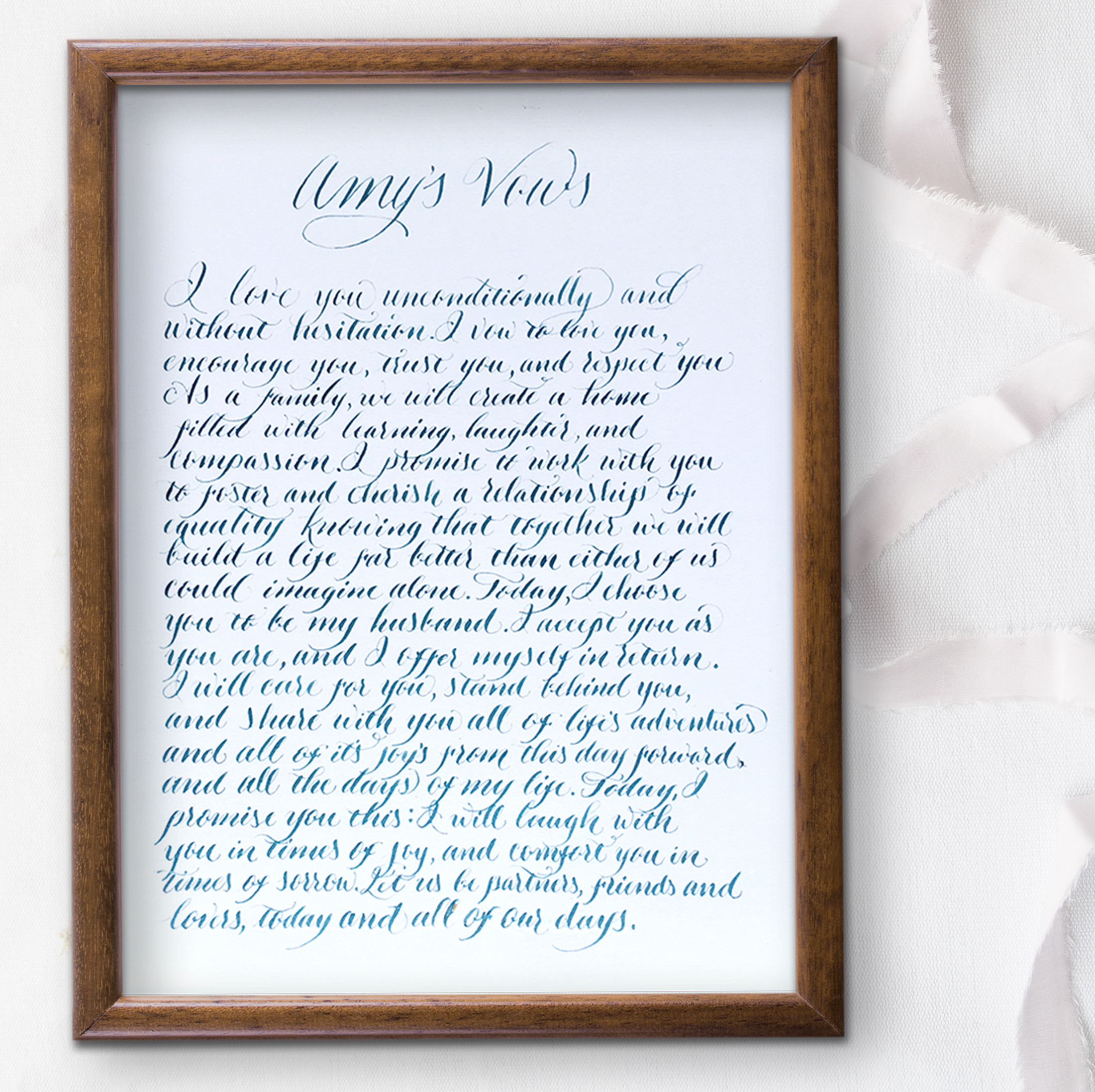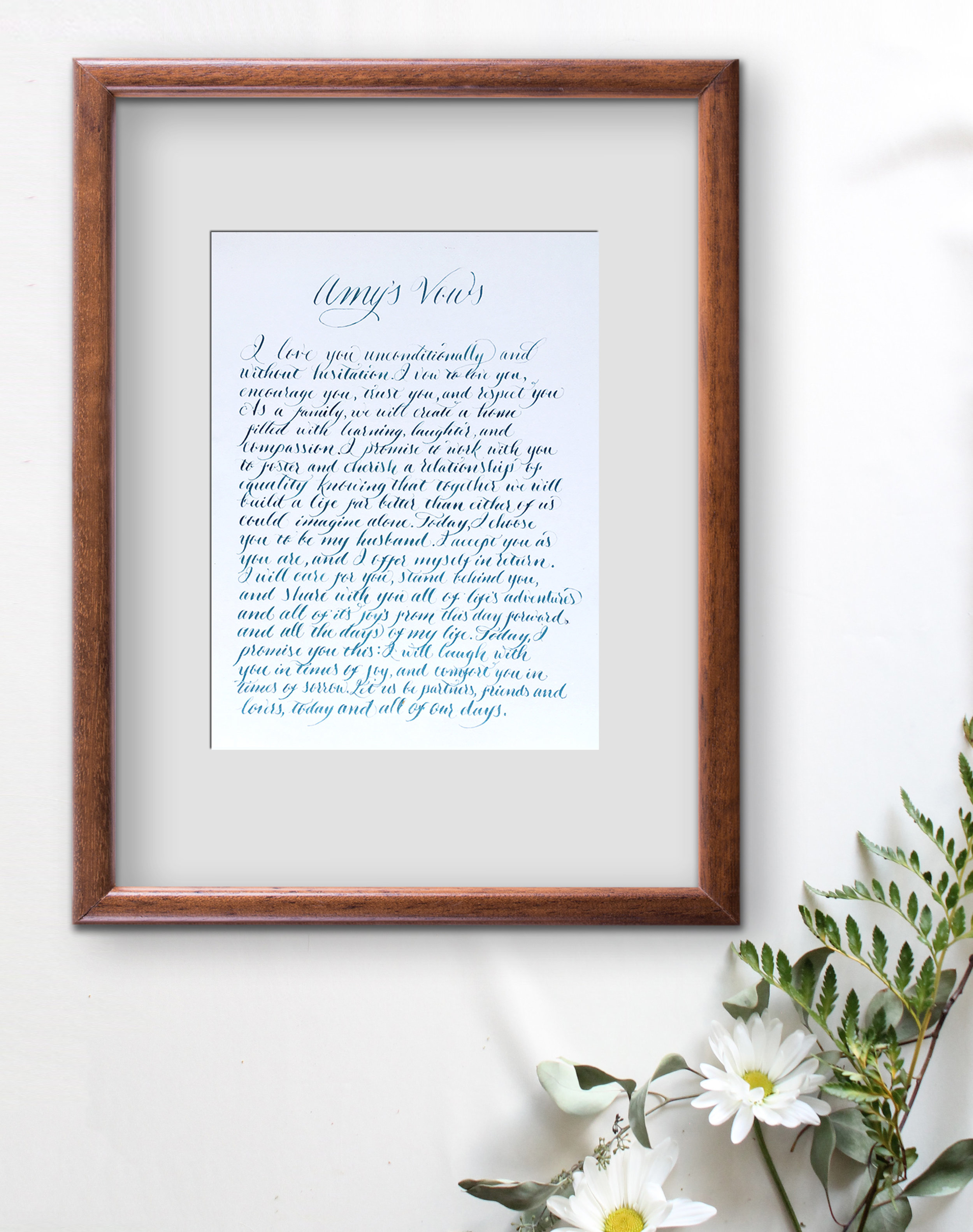 Wedding Vow Calligraphy Art Work, Set of 2
You have said your I-Do's and now it's time to come home and start the beautiful life together you have imagined for yourselves. I would love to bring a unique reminder of your special day to your home that you and your partner can treasure for a lifetime. Blush & Blue Designs uses the wedding vows the pair of you spoke on your wedding to create a one-of-a-kind handmade piece of art in handwritten calligraphy.
Guidelines:
Timeline.
To ensure your piece arrives in time for gifting or your event, please secure a time slot on my calendar here before purchasing. The time slot you choose will be the date which I mail your piece by.
Color
You may choose whichever color you would like your vows to appear in. Please try to be specific as possible. If you have a CMYK or Pantone number for reference that would be best, but not necessary. I may not be able to match it to 100% of what the color looks like in real life, but I'm an excellent color mixer and can get pretty darn close!
Size
Vows will come left aligned on the size papers you choose at check out. These are unframed pieces. For best results vows should be kept to a MAXIMUM of 200-220 words.
Calligraphy
Each piece is hand written by me in my signature calligraphy style. Due to the nature of calligraphy it is likely that no two letterforms will looks exactly alike. And flourishing will be different throughout.
How to Order
Step 1.
Secure your project due date on my calendar by clicking here. (this is the date your piece will be mailed from my studio)
Step 2.
Add this item to your cart and fill out the form for each of the the vows to be included at checkout. Price shown here includes shipping.
Step 3.
Include the copy for your vows EXACTLY as you would like it to be written. Please double check for spelling and punctuation. I will write your vows as they appear from this collected form. I am not held responsible for correcting grammar, punctuation or spellings. Please try not to skip lines. Even if your vows are 220 words or lower skipping lines will count toward the amount of space I have to work with on your piece.
Step 4.
Submit your order.
Step 5.
I will contact you using the email provided should I have any additional questions about your order. If you do not hear from me, consider that your "all is good and well" signal, you will receive an email when your order begins.
Step 6.
Check your email. Once I begin your order I will layout your vows and send this to you as a digital proof for you to approve before I move forward with final calligraphy. I can not move forward with your piece until I hear back from you that it has been approved. However, if more than 2 business days pass where I do not hear back from you I reserve the right to finish your project as is and send without your sketch approval. Please ensure the email you provided is one you check often. If you prefer me to call you when your email has been sent, please list a contact number in your form submission.
The picture on this listing is nearly exact to the same level of calligraphy to be used on your piece. If you would like to include extra embellishments such as watercolor florals, crests or other art work, please do not purchase this listing and instead use the contact page to fill out a request, so I can speak to you in more detail.
Please note that colors on screen may appear slightly different than actual color received.