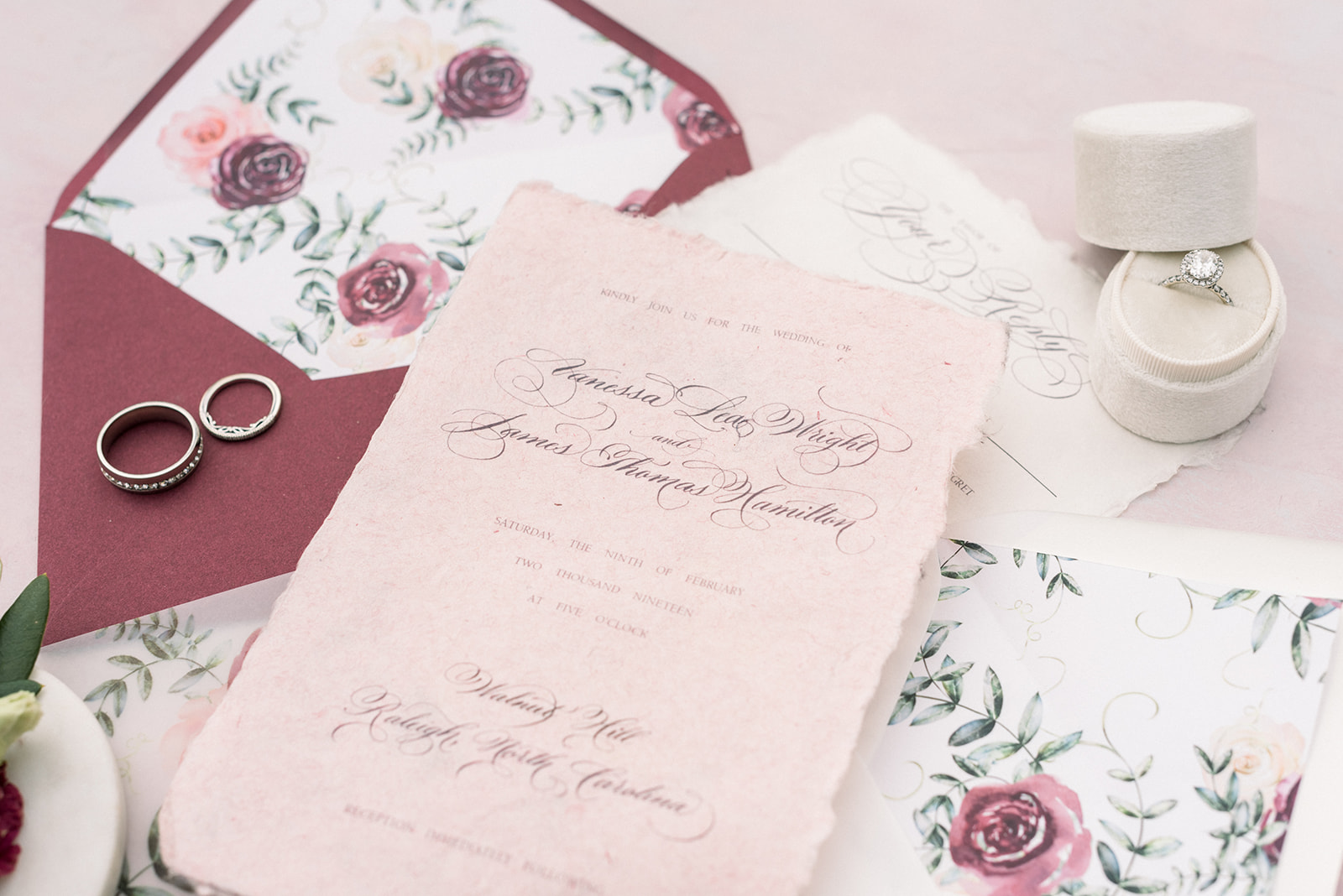 Whats included?
Calligraphy and artwork for your suite

Multiple revision rounds

Printing

All paper materials (envelopes, liners, invitation papers etc.)

Printed addressing (with options to add on calligraphy addressing)

Etiquette and copy writing assistance

Assembly

Final mailing of suite to your guest list

A unique design you wont be able to find anywhere else
Plus, if you're local to the Raleigh, North Carolina area, we get to have real one-on-one coffee chats about everything you are looking for to make your event magical!
Every bespoke wedding invitation through Blush and Blue Designs includes our all-inclusive touch:
Timeline
Your time is super precious, I get that! My timelines are designed to give you a chance to enjoy the process while never needing to fret over making deadline.
Where to start? Take a look at the gallery page to make sure my aesthetic matches your dream invitation look. Think we're a perfect match? Awesome friend, I would love to hear from you! Use this button to contact me or ask me any questions!
How long will this take? The whole process from start to finish takes approximately 8-12 weeks.
When should you contact Blush and Blue? Couples typically reach out about their invitation needs 10-12 months before the wedding to ensure a date on my calendar. I only take on two full suite designs per month!
If you need Save-the-Date designs, it's best to reach out as soon as you secure your date and location as these should be in the mail no more then 6-8 months prior to your wedding.
What if I need a rush job? I can accommodate rush orders if time allows me to. If you need a suite in less than 8 weeks please contact me right away.
Read more about custom wedding invitation design timelines and my recommended dates to contact your stationery designer on the blog.

Wedding Invitation Design Process
Step 1. Fill out questionnaire
We approach every event as a chance to bring out the truly custom details that make the two of you special. Using a quick questionnaire, Blush and Blue Designs will learn a little about your relationship and your event to determine that we are the right fit for your vision and budget. Once this is complete you can expect to hear back from me within 24 hours about any additional questions I may have. After all questions are answered we will move to step 2
Step 2. Sign quote and contract
Using the answers from your questionnaire, I will create a custom quote that includes all your paper details, calligraphy and artwork. My pricing is inclusive of all artwork and supplies needed so you need not worry about additional surprise costs down the road. On average my couples invest $1,800 for a quantity of 100 flat printed paper suites with 3 pieces, this includes the main invitation, RSVP card and envelope, an inner and outer envelope and printed addressing. Once your contract and deposit is received it's on to step 3! Now would also be a great time to gather all the info you will want on your wedding invitations! I've made a great blog entry just for you all about how to write your wedding invitations
Step 3. Sketching your invitation ensemble
Using your personality, theme, wedding venue and even down to the shoes and dress you're wearing as inspiration, we will create a 100% custom design that is perfectly coordinated for your event. From your save-the-date down to the watercolor illustrated day-of-details such as your menus, cocktail napkins, place cards and favors— Blush and Blue Designs can create a cohesive concept and branding for your big day!
Once I nail down concept, I will send you a detailed design board and sketch of your paper ensemble's design. From here most couples decide that they are in love with the vision and give the go-ahead to go into production. Not exactly as many watercolor florals you were hoping for? Or want to see a few more options for calligraphy styles? No worries, I can add them in for a second revision to make sure everything is just perfect. Once I have your final signed approval of the sketch it's on to step 4
Step 4. Artwork and design
With your approved sketch in hand I will now set out to create all artwork and calligraphy needed for your suite. Watercolors will come to life, papers and ribbons will be ordered and sweet words will be written. This is one of the longest steps in the process depending on how much artwork we decided was needed on your suite.
Once all artwork and calligraphy is created I will send you a proof for approval. Your proof will include the full layout of each of your ensembles pieces. If the proof looks good to go then we will continue to step 5.
Step 5. Final production
With your final approval on step 4 I will get to work on prepping your materials for final print and assembly. Printing generally takes about 2-3 weeks depending on your choice of print process chosen in step 1.
Once all materials are printed I will assemble your invitations with any gorgeous ribbons or additional wax seals and add-ons like custom or vintage postage we have discussed. Most couples will choose to have me mail the invitations for them (a complimentary service I offer as part of your design package) on their behalf. You may also choose to have your entire ensemble carefully delivered to you via the postal option of your choice. Local Raleigh clients can also receive hand delivered invitations!
Step 6. Optional day-of add ons
If you chose to have additional items added to your project such as menus, table numbers, display cards, custom signage and escort cards then we will discuss a separate timeline for these materials. As these will be created within a month or two before your wedding day.
Kind Words
"When I found Maria, she offered a comprehensive plan that included a timeline, a platform to brainstorm and show me options of her work, and to keep track of all the different paper items for the wedding. She was reasonably priced and her work was worth every penny. The invitations got rave reviews and were so beyond perfection. The programs, table numbers, and other items were beautiful. This part of the wedding planning was never a hassle and always a fun relief from other details."
- jessica
Save the Dates
The average Blush & Blue couple spends between $1,300 and 1,500 on their bespoke Save the Date designs, with the average quantity being 110.
Wedding Invitation Suites
On average my couples spend $2,500 on a quantity of 100 custom watercolor wedding invitations inclusive of a 5x7 invitation, response card, outer envelopes and response envelopes.
Envelope Calligraphy
Calligraphy addressing for outer envelopes starts at $3.50 per envelope. This price does not include the cost of envelopes. If you purchase a suite through Blush & Blue Designs we use the envelopes purchased as part of your invitation suite. If you are only using me for envelope addressing I will connect with you for guidelines on the envelopes my inks prefer and the number of envelopes necessary. I am more than happy to order envelopes for you as well!
Please note, envelope addressing requires at least 15% extra envelopes than needed. Mistakes, ink runs and splatters happen and this helps ensure I can deliver the best addressed envelopes for your event.
Custom event signs
Blush and Blue Designs can create gorgeous day-of signage for your event. From bar signs to elaborate seating charts, custom maps, mirror signage and welcome signs. If you have an idea contact me to let me know, chances are I can help you out, and if not, I know a wide range of designers and artistic friends who I can introduce you to. Investment on custom signage work ranges depending on the scope and materials needed.
Request a Custom Quote
You can use the form below to start a custom quote request! I will personally get back to you within 24-48 hours of your request.
Print Processes
Flat Printing
Flat printing is the typical printing process my couples choose. Flat printing produces a print that is smooth to the touch and flat on the paper, it is also the most budget friendly option. Another way to think about this is that the standard home printer is flat printing. Our flat printing process yields beautiful, high quality, full color results.
White Ink Printing
White ink can be obtained in a few different ways. White ink printing requires a specially formulated opaque white ink so that it can be applied gorgeously to your colored paper. For this reason white printing can sometimes be more costly than traditionally flat printing. Other ways to obtain printed white ink include screen printing, letterpress and white foil printing.
Foil Printing
This is the process of applying a metallic or pigmented foil to a flat surface using a heated plate, making it permanently adhere to the surface below leaving the design of the dye. Foil printing can be used in conjunction with a flat printed color piece to add dimension and interest.
Letterpress
Invented in the 15th century this process uses die-cut type and images to make a relief impression on the paper. Typically letterpress invitations are a 1 to 2 color job. Although simple, letterpress yields gorgeous results with a luxurious and unique feel.
Engraving
Engraving creates raised text and images by etching your type and images into a metal plate. The plate is then fastened into a press where Ink is applied to the plate. The plate is then stamped onto the stationery using pressure, the paper is forced against this die and lifts the ink out of the etched areas, creating raised images on the paper. engraving leaves "bruising" on the back of the paper, these are small indentations left over from the pressure applied to create the etched image on the other side. Engraving is often considered the highest level of quality of printing methods and thus is most expensive. Embossing follows this same concept, except there is no ink applied to the plate to create a raised "ghosted" impression.
See more of the Blush and Blue Designs process on our Instagram